Good afternoon, ladies and gentlemen!
In mountain tourism, we have something that is very interesting. In fact, in most of the major countries where mountain tourism has been developed for a long time, it started to develop a summer season. But then little by little, it turned to be mostly a winter activity. You see here for three different countries, United States, France and Switzerland, according to a company that operates the large mountain resorts in the Alps and also in the United States, in blue that's the share of the winter activity in the term over the lift company and the yellow is the share of the summer activity. So you can see that summer activity is really a very small part of the business. This has been a trend over the last fifty years to shift from summer to winter. And over the last ten years or so, there has been another shift for more summer activity and more four season activity.
It is also especially motivated by the fact that ski business is already a very mature activity. We have already invented the best lift, we have already invented the best cabin ski, we have already been able to create very nice slopes that are so easy to ski down but there is not so many things that we can make new in the ski business instead to develop it with demands for some additional services, for conveniences, changing business models. But there is not so many potential for development.
Here are some examples in the picture of some activities that have been added to the ski itself but this is just to improve some slopes to make them more fun, to have some equipment to clean the skis and to have mirrors to arrange your make up. These are little things organized nice ski but nothing's really new to develop the business.
There have been offering several other services for the skier. For instance, food, because people go ski also like to eat, to have some tools for the cell phone and to have tools to warm up. But these are a little bit gadgets. There's no so much development room in design.
Something happened with the improving of technology of skiing, the improvement of the lifts and the improvement in the ski is that the people now go up and down much more quicker than they used to do in the past. Then after 3 hours, they are tired of ski and they want to do something else. So they are interested after 2 p.m. to stop skiing and find other activities which was not really the case in the past. Because in the past you need to ski the whole day to have a 3000 or 4000 vertical drop and now you do it in three hours. So it has created an increased in the demand for other activities and also the problem of generating a demand for non-ski and non-snow dependant activities.
Now in the ski resorts, you can find a lot of activities. These are examples taken from different places in the world. In Korea, they have huge water park next to the ski area. Here's an example in Australia, they make catwalks so people can also see the view, thermal baths and so on. These are things that you can do besides ski and even if you are not skier, you can do this and have some fun in the resort at the wintertime.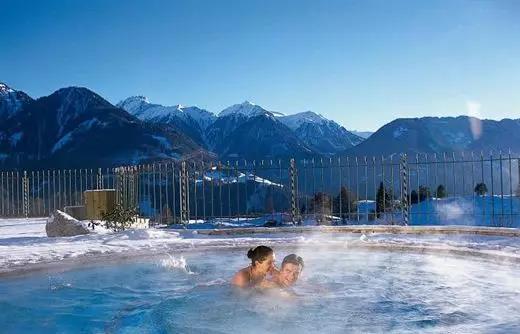 There are other examples of activities in the mountain that are mostly at wintertime. For example, big concerts at the top of the mountain and now there are more and more resorts that organize concert either in the wintertime or in summertime or in shorter season. Also, one big activity is shopping. This not only in China but in many other places in the mountain resorts that people also like to also make some shopping and we also have some other funny activities.
So this is the development of the non-ski offer and with this non-ski offer, you can also address part of the demand in other seasons than just in winter because some of these non-ski offer is not dependent on snow and you can do it four seasons.
The thing is that if you look at the inventory of the activities that you can do in a ski resort, I have here a little exercise of making an inventory of all of the possible activities in a mountain resort and I arrived to 148 activities. It is not comprehensive, but it is a very large spectrum of the activities that you can do in a mountain resort. And of these 148 activities, 56 activities can be done in any season, they are not depend on snow or nice weather and so on. But there are 40 depend on snow that practiced in winter and 52 that are practiced in summertime only. And the thing is that in all these activities, there is only one that is with a very large activity which is skiing. All of the other mountain activities have a much more limited capacity.
A lot of these other activities are also less appealing to part of the guests. In this part, I will not enter into the detail. But we have a listing of different activities that have been done in the Canadian ski area. And the top five or six bars are rather popular activities like eating out, shopping and so on. But then a lot of the other activities are much less popular I don't think you see the 20% but all of these activities are interesting less than 20 percent of the people in the resort. So that means you need to have a lot of different activities to be pleasant to each of the guest.
It shows that in the winter season with skiing and very few activities, you can accommodate like an example of 7,000 guests in the ski resort. But at the summertime, you need to have plenty of different activities that are accommodated much less people and only accommodating 5700 guests.
So these are examples of summer activities, mostly with water that you cannot do in the wintertime. But there are a lot of activities that you can create in the mountain for the summer even using the lifts to bring the people up and then slide them down in the some water slides.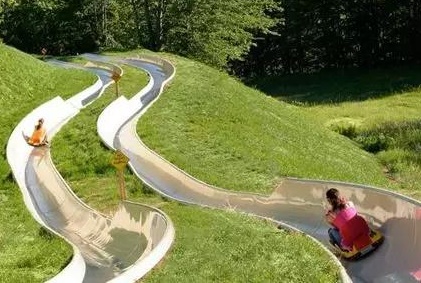 Big issue in the mountain tourism is that, for the summer activities especially, the image of summer in the mountain is very nice and people like it but the problem is that they are not attracted to go to the mountain. The big challenge is to make people come to the mountain at summertime and even some large ski resorts have difficulties having people in the mountain at summertime. Of course, there is not a 100% rule at someplace that doing a lot of business at summertime and do not do much business in wintertime. But in general, in the mountain industry the winter is really the heavy season.
Here, you have some examples picked up worldwide of some resorts that have really balanced activities between summer and winter. They are about 50 percent activity in the winter, 50 percent of activity in the summer and you also have a Chinese example of Thaiwoo resort and Chamonix in France and some ski area, mountain area in Canada, for instance, or in Switzerland my home country.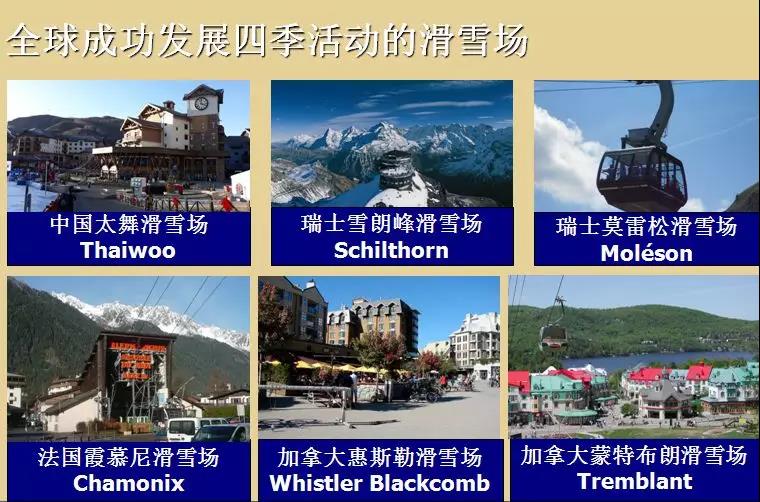 The key to success, to have really a balance activity, four season activity in the mountain resort, I would say there are two basic ingredients—one is a lively village where the people have a lot of fun activities, restaurants, shopping and so on and the other thing is to have a scenic panorama, possibly a lift that bring you to the top of the mountain. I think the mix of these two key issues makes the successful of 4 season mountain activity.
Thank you very much!