I want to thank IMTA for its invitation and trust. It is my honor to participate and collaborate with you. I propose to talk to you today about the potential of mountain tourism in the world, tourism concepts, trends and major issues.
There is no altitude limit to define a mountain area, but we know that about 25% of the planet's land is land located more than 1000m above sea level…And about 10% of the land is lower but has a mountain profile. It can therefore be concluded that 1/3 of the earth's land is covered by a relief of mountains. This relief represents 33% of the territory of Eurasia, 24% of North America, 19% of South America, and 14% of Africa.
These mountains of the world are very diverse in terms of climate, altitude, relief, isolation, precipitation and snow, biodiversity, populations and lifestyles... This diversity can sometimes be found around the same mountain... like GongaShan in the neighboring province of Sichuan. This summit culminates at 7600m under a continental climate descending from the Tibetan plateaus, and overlooks the Chengdu plain, bathed in a subtropical climate at an altitude of 500m.
These mountains of the world represent a tremendous lever for development though tourism, which is growing almost everywhere in the world. About 20% of all tourist destinations in the world are already in mountain areas.
There are 4 types of mountains:
- The high mountains,
- The mountains,
- Medium mountains
- And the low mountains.
Tourist products are obviously not the same.
And then there is the countryside, I talk about it because rural tourism and mountain tourism offers similar models of development and especially look at nature. When you add up the countryside and the mountain territories, the potential for tourism becomes infinite. In China alone, a continent-wide country, ¾ of the country's land area is covered by these countryside and mountains with diverse traditions and resources, potentially valuable for tourism.
It is up to each site to design, "to cook", its own "recipe" for tourism, highlighting the potential of the destination...
- Outdoor sports;
- Cultural leisure activities;
- Leisure, well-being, nature, health;
- And animations, events...
It is mainly these ingredients that make mountain tourism... even though there are other factors that influence attractiveness such as the quality of the environment, the quality of services, the originality and consistency of products, the quality-price, transport, accessibility etc...
The outdoor sports first. They are at the heart of mountain tourism, especially in the Alps, summer and winter. The tree view of the photo shows the wide variety of activities that value "the playground" that is nature. Here are the land activities with the main subdivisions...
In these sport-touristic ingredients there are also aquatic and aerial activities. I am not going to go into detailed explanations, this is not the subject, but if these leisure activities sometimes require technical skills, they are also accessible to many tourists accompanied by a guide or an instructor.
And the second main family of activities that generate equally attractive and economic benefits: these are non-sports activities:
- Discovery of culture, history, industry etc...
- Well-being and health;
- And events.
These leisure activities bring different values to the resources of the mountain through heritages, silence, atmospheres, thermal resources and many more...
These ingredients, sports and non-sports, feed the different tourist modes, the two main ones being:
- Mass tourism on the one hand,
- And responsible-sustainable tourism on the other hand.
These are two forms of tourism stand in opposition to their conception.
Mass tourism first.
It emerged with the widespread use of paid leave in industrialized countries and the growth of purchasing power, allowing the "masses" of the people, who are the largest part of the population, to travel and thus to support this economic sector through their consumption.
This sketch highlights the "cycle" of evolution, with the destination that is usually created by an "elite" (passionate, experts, developers, wealthy people...) that then joins the "mass", which tends to drive away the elite, which reinvents new destinations elsewhere. This cycle finds its meaning in the place of tourism as a social marker of our industrial and consumer societies.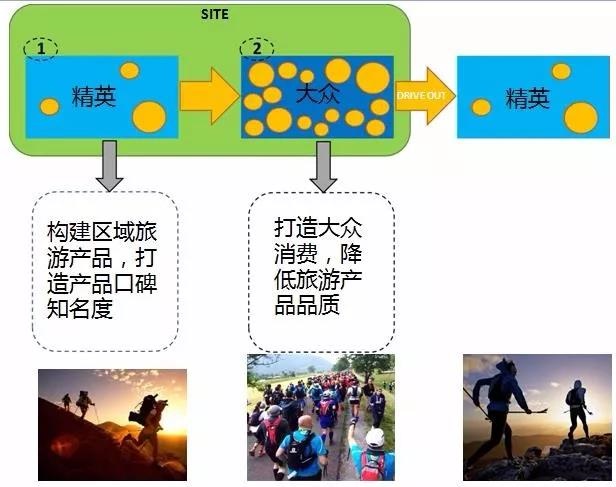 In any case, this evolution towards mass tourism implies lower holiday costs, supported by more accessible means of transport and accommodation. Low cost flights and online shopping have been a major factor in the growth of this large tourism.
This mass tourism impacts mountains on different levels. The benefits can profit to many sectors and communities. And according to redistribution, this tourism brings real social progress, develops services and new professions, revitalizes traditions and crafts etc...
However, this "classic" mass tourism and very lucrative industry prioritizes profitability sometimes at all cost and in the short term, and often centralizes economic benefits to investors and a more or less limited share of local people.
It can then impoverish, or even disappear, the local community because of soaring prices, land pressures, tax increases, suffocating number of tourists, merchants too present...And then there are also the environmental nuisances associated with excessive tourist attendance.
As a result, mass tourism is increasingly being discussed with those who feel unhappy:
- on the one hand tourists themselves not always satisfied to find urban pressures (traffic jams, waiting times, pollution, noise, regulation…) during their holidays.
- and on the other hand the local inhabitants (here it is in Spain) who sometimes suffer. If they start by thinking that tourism is "an industry that consists in transporting people who would be better at home, in places that would be better without them", there would be advantages to meditate about the consistency of some current tourism concepts.
Innovative forms of tourism, known as "responsible tourism", are being developed which are disrupting the classic mass tourism industry. And this "responsible tourism" rethinks the relationship between tourists and residents, and between tourists and the environment. It is an alternative to mass tourism.
This alternative model takes different forms:
- Green tourism, also known as eco-tourism or rural tourism
- Fair and ethical tourism
- Solidarity and participatory tourism
- And creative tourism
Each of them focuses either on the discovery of eco-systems or ethnocultural aspects, or on the equitable sharing of profits, or on involvement in development actions or creative workshops... In any case, all favor respect, exchange and human contact.
These photos for examples include Peru, India, Benin, Vietnam, Sri Lanka, Switzerland and France
But it should be noted that, of all the products of this kind of engaged tourism, which is based not only on a purely hedonic and economic aim, those that become viable are the products that manage to bring together ecology and social with financial profitability... ...such as the mountains of Rwanda in Africa where the last Gorillas are protected by local actors from the moment when tourism brings more income than poaching...
In a world where more than half of humanity lives and works in cities with many pressures, where people aspire to "consume better and live better", nature becomes a strong value... And it is not surprising that this "responsible and authentic tourism" is growing and that the countryside and mountains, synonymous with green tourism, oxygenation and well-being, are attracting more and more. In France, for example, according to a poll, "contemplating beautiful landscapes and being close to nature" is the first argument that motivates mountain stays for 79% of French people. In second and third positions comes oxygenation and fitness. They are also nearly 40% of French people taking holidays in the countryside, preferring short stays.
New types of accommodation are also offered, such as tree houses, ecological campsites, "ready to live" tents with all the comfort but immersed in the green. The real luxury here is nature.
In this spirit, Natural Parks make sure visitors will find preserved biodiversity. In addition to the visits and outdoor activities that can usually be practiced there, eco-volunteering is also a useful form of tourism that develops in the service of natural reserves, for example for counting wild animals or restoring degraded areas.
In terms of natural reserve tourism, the management of the Yosemite National Park in California is an advanced administration model that successfully reconciles high attendance, free access to nature, freedom of outdoor sports practices and strict protection of the site. Tourist revenues are reinvested in park activities, including environmental education programs for young people...great initiatives when you know how the mountain is a wonderful and real school of life.
China also has many natural areas protected thanks to limited access and a strict management of tourist waves. I would like to mention the mountains of the Pandas in Wolong, which became a national park 40 years ago with the emergence of the concept of "treasure animals". And today most of China's National Parks are in the mountains, just like the Tibet Autonomous Region, which alone owns 2/3 of the country's national parks... and more if you add protected areas in the autonomous prefectures. Making these mountainous regions refuges of biodiversity can only promote a genuine and sustainable tourism.
Among the trends in the world I also want to mention "slow travel" which promotes a slowdown of practices and lifestyles to better appreciate things. The slow traveler will prefer a canoe ride to an hour by jet ski, or a horse ride rather than a 4x4 ride. He will also prefer public transport: trains, buses, car sharing... And of course "zero pollution" trips like bikes or by foot.
The hikes become themed to make children walk with their families better, and to tell "a story" when they go along a path animated by local artists or with sometimes unusual pets...
A good example of slow tourism is the European network of thousands of kilometers of green lanes connected to each other. Cyclists combine physical exercise with discovery. This activity is, along with hiking, and according to the statistics of the ministries of sports and tourism, the most practiced sport leisure in Europe. There are holidaymakers, active retired people, but also new travelers who decide to go on a trip while working, becoming "digital and connected nomads".
This connected tourism is THE indispensable and cross-cutting trend to all tourism activities. Anyone can instantly post photos of their stay or outdoor exploits on social media. Everyone can easily keep in touch with their loved ones, download the applications offered by the tourist sites to follow his path, or check the weather.
Ski resorts in particular have taken over this trend: free Wi-Fi on the tracks, fancams, real-time information, personalized activities, pocket wifi, etc. Even equipment such as skis and caps are now connected... However, winter sports resorts, which are built on the concept of mass tourism and heavy and impacting infrastructures, now have a future that is uncertain.
Indeed, the winter market faces a real ecological challenge in the face of global warming: less snow, for less time, and warmer temperatures.
In the solutions adopted to save the activity, by maintaining a mass attendance, some choices are not always the most environmentally friendly... especially the almost generalization of artificial snow systems. And the mountain common sense teaches us that the more artificial the tourist object is, the more it affects the vulnerable eco-system.
Mountain is even a laboratory for climate change. Summits in the Alps, for example, suffer from a rise in the thermometer 3 times the world average. And the massive tourism industry is contributing to this, especially with greenhouse gas emissions from travel and transportation. The Mountain Riders Ecoguide in the USA estimates that 57% of the CO₂ emissions from this tourism are related to travel by car and plane, 27% are generated by accommodation with heating and electricity, and only 2% for skiing, the object of the holidays... The French Ministry of Ecology made the same observations: the airplane in tourist use produces 40% of the CO₂ emissions generated by tourism at the national level. And it produces about 5% of the emissions from tourism worldwide... And the airplane, followed by the car, is the mean of travel that is largely in the top in these WTO figures.
As a result, environmental concerns are already driving travelers to avoid flying and to favor proximity destinations and modes of transport such as the train… cleaner. On the site side, there are those who today prefer to "retain" a tourist clientele that has focused on the destination, relying on less traffic but better quality, rather than aiming for a large turnover of visitors consumers "one shot". Some destinations have taken this environmental issue to heart by seeking the way of clean mountain tourism, such as the winter/summer resort of Pyhätunturi in Finland, which has reduced fuel consumption of equipment, heating by biomass, etc... It is one of the only, if not the only, resort with a local carbon balance close to zero. What seems certain is that the negative footprint of our classic mass tourism models, carbon emissions, expending attendance, is pushing this industry that interests us...
I want to quote the mountain guides who are the first observers in their daily work of the change of the mountainous environment: glaciers that shrink or even disappear, whole mountain corners that collapse, 20 degrees Celsius on the top of Mont Blanc that culminates on the Alps.
I voluntarily take this symbol of the Roof of Europe, which see passing of almost 300 tourists improvised mountaineers, every day during the summer season, on the same route with consequences for pollution as well as for safety. Wild camping has already been banned... Discussions are being conducted locally to solve this exponential traffic. There are two approaches:
1- The first is to regulate access to the summit and limit its attendance to the capacity of the hotel-refuges along the ascending way and which physically facilitate access to it.
2- And the second one, which proposes to remove these hotel-refuges in order to restore this summit to its original dimension, which would naturally reduce attendance to people trained for this climb. This option also proposes to impose a professional guide to the tourists to ensure their safety and environmental protection.
Same concern for Everest, Chomolangma to quote its original tibetan name, which is the highest summit in the world, straddling China and Nepal. It has become a consumer product for extreme tourists with increasingly sophisticated infrastructure and services at high altitude, where, a few decades ago, the climbing was reserved for only a handful of experienced Himalayists. At the beginning of the 1980s we were just 30 people at the base camp of this mountain, today they are almost 1200 each season. Last spring, the north tibetan slope, was closed to tourists and mountaineers for several months to clean up the site and to let it breath without pressure. Access for climbing will now be regulated at 300 people per season, potentially 2 to 4 times less than the usual attendance in recent years.
Macro-economic data indicate that tourism in general is doing well and is a driving force in the global economy with good prospects for the future, both in terms of its share of global GDP and the number of jobs generated, but it is not less certain that this market is going in a profound change in the face of major challenges. We will need to revise our tourism models and their economic logic. Because this limitless growth, not to say this headlong rush, in limited areas, fragile and often inhabited by indigenous people, can only lead to a deadlock. We will need to work on the causes that affect the "global" level, by aiming at the neutrality of carbon: a greenhouse gas emission that is not greater than what nature can absorb We will also have to work on the causes that affect the "local" level by aiming at the neutrality of tourist flows: an attendance that is not greater than the ecological environment and the local community can digest. Since tourism is a leisure activity and not a necessity in life, this sector of activity and economy must be all the more exemplary.
There is a great opportunity for IMTA:
-seeking the best practices in the world, -creating its charters and wear labels of mountain tourism that is ethical, decarbonized and up to the challenge,
-and why not organize the annual mountain tourism awards that would reward the best initiatives... These are just a few tracks.
In conclusion, I would like to say that, if ancestral cultural traditions still make sense somewhere, and can have influence today, it is perhaps here in China, where the principle of "harmonious development" coupled with Taoist philosophy with its "jewel of moderation", could inspire us in the search for sustainable and balanced solutions in mountain tourism... "Moderate growth"... "A community of shared human destiny"... these are expressions taken from a speech by the President of the People's Republic of China, Xi Jinping, who, with these words, pointed the way wisely.
Thank you!
Xie Xie Da Jia