Club Med, the world's leading brand of "exquisite one-price, all-inclusive" holidays, recently launched the LEGO ® Wukong Xiaokun co-themed Room together with LEGO ® Wukong Xiaokun series to create a full atmosphere and all-round fun experience for family guests.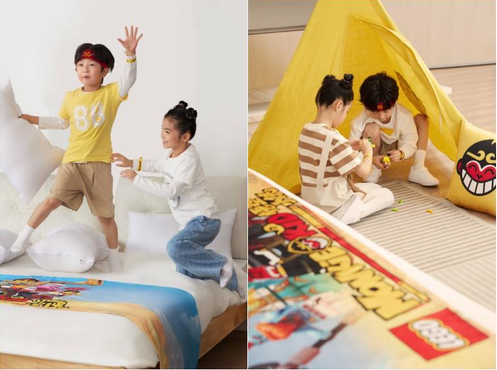 Club Med has teamed up with LEGO ® Goku Man Series to launch the LEGO ® Goku Man co-themed Room
This is the first cooperation between Club Med and LEGO ® Goku Series, and the two sides will satisfy children's heroic dreams and exploration through more interesting play content and interactive forms, helping every child grow up happily. At the same time, the LEGO ® Goku Man Series limited themed rooms will be available for booking across all Club Med platforms, opening up a holiday for more family consumers to explore and discover in play.
Multiple punch hidden gameplay to unlock new scenes of parent-child interaction
Club Med will collaborate with LEGO ® Goku Man Series to create fun LEGO ® Goku Man series co-themed rooms at Club Med Mediterranean Club Lijiang Resort and Club Med Mediterranean Neighborhood Qiandao Lake Resort to create a unique stay experience for children and families who love LEGO.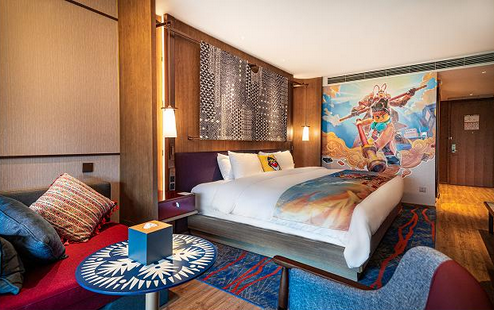 Club Med Lijiang Resort LEGO ® Wukong Hero co-themed room
The LEGO ® Wukong Hero series is the LEGO Group's first themed series inspired by Chinese classics. Based on the story of the Monkey King, which has been around for 470 years, the series is rooted in Chinese culture and brings consumers a fun experience with a new story line. Since its launch four years ago, the LEGO ® Goku Series has continued to release toy sets, animated series, comic books and other rich content, so that children can enjoy the fun of matching, role-playing and creating hero stories.
In the themed rooms, Club Med has cleverly brought the LEGO ® Wukong Man series co-branded bed flags, pillows, giant hanging pictures and other soft decoration elements full of children's fun, creating an engaging and immersive hero world. The theme suite in Qiandao Lake Resort displays the LEGO ® Wukong Hero series The Ultimate transformation Mecha, equipped with indoor tents, add children's play facilities decoration, etc., to create a unique theme stay experience for families.
Lego ® Wukong Hero co-themed room in Club Med Mediterranean Neighborhood & Qiandao Lake Resort
To further encourage children to feel love and courage and explore the world with imagination, the two sides will also jointly produce a promotional animation in the form of stop-motion animation. In this special animation, "Goku Man" and his friends will embark on an adventure trip to Club Med and participate in the rich exploration activities of Club Med, so that more families can follow in the footsteps of "Goku Man" and start a wonderful holiday full of excitement and fun.
At the same time, this cooperation will also link a number of offline LEGO brand retail stores to hold Club Med members' exclusive Wukong Hero themed experience activities.
"Vacation + toys" cross-border cooperation, together with children happy growth
Club Med is deeply committed to the Family vacation market, always committed to creating a comfortable holiday environment for families to get together, in nearly 70 resorts around the world, for 3 different age groups of children to create diverse, fun, rich activities, and continue to launch creative family products, such as the new mini club, Amazing Family! Such as continuous innovation of education in entertainment word-of-mouth products. This event, in addition to the room layout, the family will also receive a well-prepared theme welcome gift. During the launch of the joint themed room, book the LEGO ® Goku Man Series Themed Room to receive the LEGO ® Goku Man Series bonding bag, playbook and exclusive design headband. Children will be joined by their families to enjoy the LEGO experience and enjoy the fun and fun of the holiday together.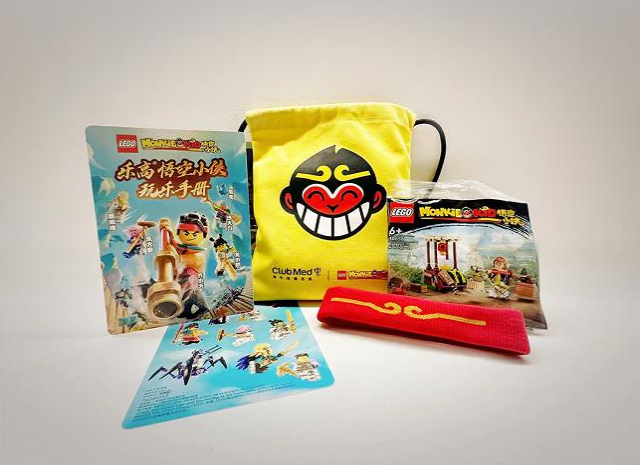 Club Med and LEGO ® Goku Man series joint gift box
Commenting on the partnership, Andrew Xu, CEO of Club Med China, said: "As living standards rise and young parents' demand for family vacations continues to grow, as the world's leading family vacation brand, we always pay close attention to the potential needs of our guests, and this collaboration between Club Med and LEGO ® Wukong is precisely through a series of innovative forms of cooperation to meet the diverse needs of Chinese consumers." Lego ® Wightman cultivates children's imagination and creativity, which is in line with Club Med's philosophy in the field of family. We hope to help children develop a positive and healthy personality through play and family companionship to create a full range of high-quality family products for family guests."