World Water Day was celebrated on March 22 to raise awareness about the importance of water conservation as the world grapples with climate change, shrinking resources, and other potential risks.
In China, there are numerous stunning waterfalls, which not only provide an awe-inspiring sight but also play a vital role in the natural ecosystem.
In this article, we will introduce you to China's four most beautiful waterfalls that have been compared to glimpses of heaven on earth.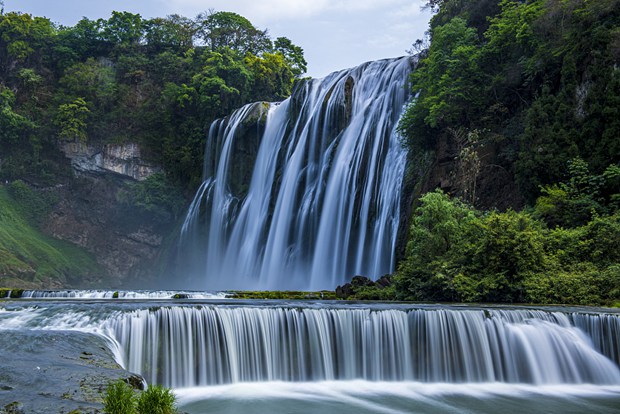 Huangguoshu Waterfall in Guizhou Province /CFP
First on the list is Huangguoshu Waterfall, located in Anshun City, southwest China's Guizhou Province. It is one of Asia's largest, measuring 77.8 meters in height and 101 meters in width. The thunderous sound of the water as it plummets into the natural pool below serves as an audiovisual sensation.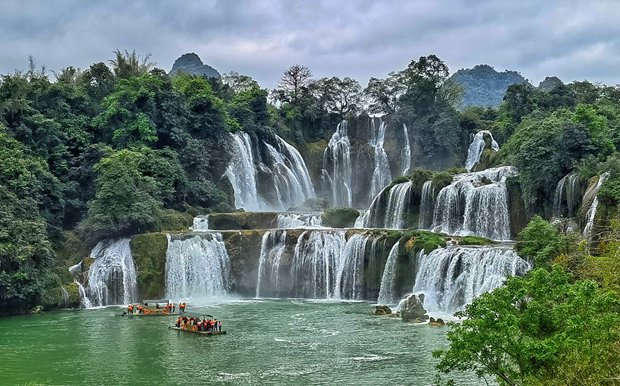 Detian Waterfall in the Guangxi Zhuang Autonomous Region /CFP
Second on the list is Detian Waterfall, located on the border between China and Vietnam. Separated into three falls by rocks and trees, it ranks as the largest transnational waterfall in Asia. Its natural beauty, coupled with the surrounding karst landscape, is like a scene from a fairy tale.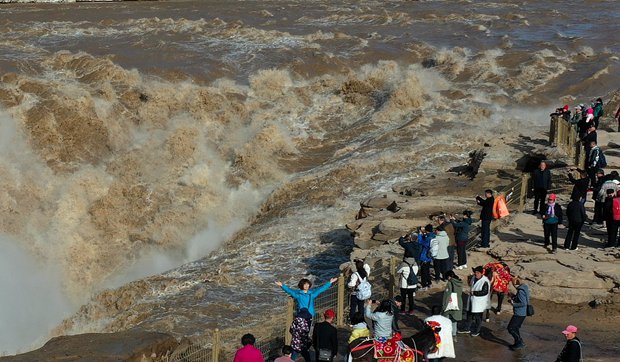 Hukou Waterfall in northern China /CFP
Hukou Waterfall is located in the middle reaches of the Yellow River, which sits at the intersection of two easily confused provinces – Shanxi and Shaanxi. It is the largest yellow waterfall in the world. Its width changes with the season, however on average, it measures 30 meters in width by 20 meters in height. The roaring sound of the water as it plunges into the deep gorge is awe-inspiring, and the mist that rises from below adds to the area's mystical beauty.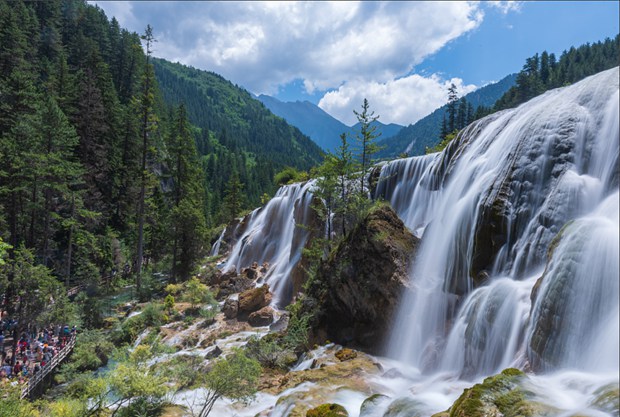 Jiuzhaigou Waterfall in Sichuan Province /CFP
Last but not least are the Jiuzhaigou Waterfalls, located in Sichuan's Jiuzhaigou Valley. These comprise three main falls, namely the Pearl Shoal Waterfall, Nuorilang Waterfall and Shuzheng Waterfall, as well as some smaller cascades. Jiuzhaigou Valley is a UNESCO World Heritage site known for its stunning waterfalls, colorful lakes, and snow-capped peaks.
One of the most famous sights in the valley is the Pearl Shoal Waterfall. The water cascading over a wide rock shelf seems to resemble a white curtain. Meanwhile, the surrounding area is decorated with rich vegetation, making it a green paradise.
Every year, these marvels of nature attract hundreds of thousands of visitors from China and the world.